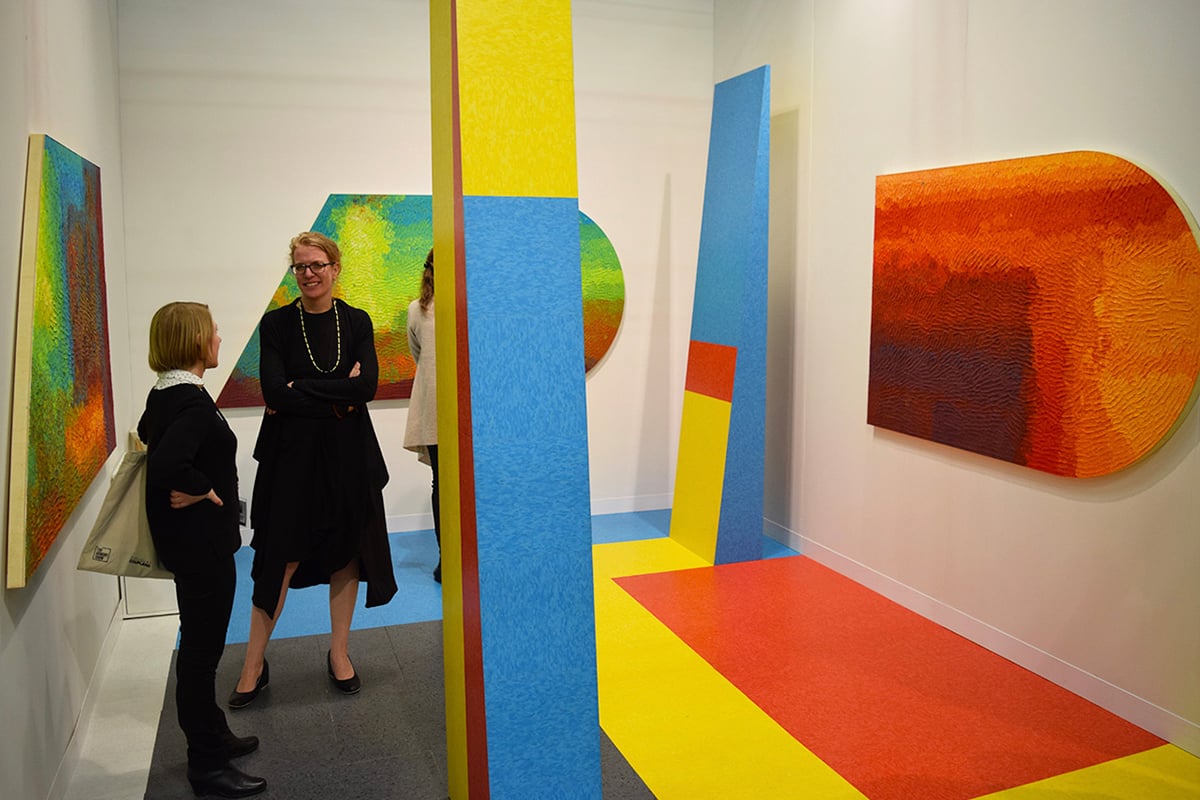 The way to succeed as a dealer in the art business is to maximize your personal network of collectors in order to make the most sales. Dealers today are traveling the world to sell to collectors on their home turf, hosting up to 10 exhibitions a year, and participating in anywhere from 1 to 8 art fairs a year. As discussed in the article "Software is Eating Everything… BUT the Art World", this tactic is extremely expensive, perhaps even too pricey for smaller scale galleries. A supplementary strategy used by dealers is to expand their collector base by encouraging current clients to recommend their business to friends. However, this strategy still limits client outreach to a relatively small and exclusive group of people. Most galleries don't even have time to focus on client outreach because their methods to organize data are outdated and too time consuming, making it virtually impossible to keep up.
Google docs, post it-notes, spreadsheets — these are just a few of the inefficient tactics that gallery staff try to maintain in order to keep track of their sales as well as retain and expand their client base. No matter how much effort is put into unsustainable methods, the result is futile. Efforts must be redirected to smarter ways of client management and organization. And frankly, the art world is behind most other business sectors when it comes to technology. Technology might change your practice drastically, but it will also allow you to get the sales you need to keep the gallery lights on.
Client relationship management (CRM) software is an easy solution that allows galleries to focus on what's important, instead of spending hours on the nitty gritty. A CRM is a tool that helps you collect information, foster and develop relationships with clients, and in the art business, sell more art. CRM software is being used in nearly every business today, except in the commercial art world. Just look at ServiceTitan or WELL. ServiceTitan offers ways for technicians to instantly connect with customers who are in need to plumbing, electrical, or repair services, making it easier for homeowners to get a quick fix while also driving a technician's business. WELL does the same by connecting patients with medical staff in a fast and efficient manner. What these companies are doing is simplifying and enhancing communication between seller and customer, so why can't this be implemented in the gallery space? A CRM tool is instrumental to any business that has clients and strives to optimize sales. The art world is yet another vertical industry, but one that's been untapped by vertical solutions.
Galleries are focusing on the what when they should really be focusing on the who. In other words, art sales currently revolve around the object being sold rather than who's buying it. That said, it's the people who keep your business alive, not the artwork themselves. You need a large pool of people in your network in order to build and nurture relationships. Otherwise, there's no one to buy your art. Most dealers don't have the time necessary to invest in each and every relationship, and sometimes you just have to prioritize the people you think will get you the most sales. But this can be a guessing game, and it also means you're putting aside a long list of people who might be interested in the artworks you're trying to sell.
According to Dunbar's number, you can only maintain about 150 relationships at any particular time. Therefore, it's humanly impossible to do what galleries are trying to do: maintain countless relationships and try to keep track of them through a variety of non-centralized methods like referencing spreadsheets, scattered documents, or just trying to keep a mental tab on who you've spoken to at all the art fairs, exhibitions, and events you've ever attended. You need a way to effectively communicate one to many, but in the most personalized way possible.
Keeping track of your clients is undoubtedly the hardest thing to stay on top of, but at the end of the day your clients are what drive your sales. Clients are worth investing in, and a client relationship management tool is dedicated to helping you do just that. Your business will become easier to manage when you know exactly how to handle the people you are selling to. A CRM tool serves as a collector database for galleries, where you can keep track of all the people you've been in contact with and monitor their levels of interest.
Today, new clients are as essential as old ones to keep your business going. The art world tends to be insular, so galleries must compete amongst themselves to retain the same clients. You might think you have unique, one of a kind client lists, but the truth is many dealers are vying for the same collectors' attention. However, Tim Schneider of Artnet News highlights an important trend: the art world is the only one that doesn't actively focus on clients they don't yet have. Additionally, the art market is being filled more and more with younger individuals, who are eager and willing to become the next generation of collectors.
Keeping track of clients old and new can be quite overwhelming. Right now, personalizing mass communication takes way too long and is extremely inefficient. According to our stats, it takes over a third of our galleries several hours to send out individual offers or previews to their clients. For about half of them it takes over 2 days or even more than a week. Luckily, CRM software cuts down this process to just a couple hours, and optimizes methods of mass communication in the most personal way.
As a dealer, you have thousands of people that you're trying to sort through and categorize. You're constantly thinking, should I maintain this conversation? Am I wasting my time? Should I invite them to dinner to discuss future business? There must be a way to filter through clients and potential clients, as well as your ideal level of engagement with them. Only then can you nurture relationships to their fullest and keep potential collectors interested in you and your business.
There's currently no centralized solution that allows you to activate the clients you're connecting with on a daily, weekly, or monthly basis. There's no set way to keep track of who you sold that Yayoi Kusama piece to last year, or which of your clients was most interested in Sean Scully or Mark Bradford's works. What galleries need is an art systems database that does the work for you. You can focus on the personal aspect of fostering relationships with collectors, while having the essential facts of who's interested in what or which artwork sold to whom concretized in your centralized gallery database rather than relying on your unpredictable memory.
Data is everything. If you're not looking at data in your gallery, you're not optimizing your business potential to the fullest. Ignoring your data is like spending money and not looking at your bank account. You need to understand what's happening so you don't overspend and so you can operate most efficiently with the resources at hand. Leaders in the art industry today have relied on their memories. They set themselves apart because they have memories of an elephant, but having 100 artworks in your head that you sold to 30 different people is not an effective use of your memory or your time. Having all of your data stored in a CRM software will not only lift the burden of trying to remember the impossible off your shoulders, it will also give you access to information you never had before: who's actually opening your offers, who's clicking on the artwork PDF, who was interested in a piece you ended up selling to another collector last year?
At ARTERNAL, we saw a gaping hole in the art market and decided that it's a void we're committed to fill. You can continue using your inventory platforms and newsletter tools, but ARTERNAL allows you to focus on what matters most: the clients driving your sales. We want to change the dialogue in the art business to focus on the people, the collectors, because that's what's lacking. Through our many phases of research, our work at the New Museum's incubator NEW INC, and through our many conversations with experts in the field, we understand how dealers operate. We also know how collectors navigate the art scene. We know what they're looking for and how they like to be treated. Ultimately, the only way to maximize your gallery's potential is to leverage technology and use data. Only then can you make the most sales and make the most of your business.
What we're doing at ARTERNAL is lowering the strain on your mental bandwidth, while still maintaining your far-reaching client base at your fingertips. You can think about how to run your business better and how to run your staff better, instead of trying to remember what you've sold and to whom. Knowing when to follow up and who to follow up with is an effective use of your time, and having data allows you to do that. ARTERNAL is an art CRM tailored for the specific needs of a gallery. Features include a client database, inventory management, an offer tracking tool, all dedicated to boosting your art sales. Data is the future of art gallery systems, and we provide the information you need to make the most of your expansive client network.